Current
53°30'N completed!
After five years of construc­tion and plan­ning - starting with the 2015 compe­ti­tion - the work on the new Kath­leen Andrews garage has now been completed. Due to the restric­tions caused by the pandemic, neither the new building nor the art has yet been opened. But here are photos and a film from: David Dodge, GreenEnergyFutures.ca
Five topo­graphic models of moun­tain-land­scapes in the scale of ca. 1:1.000 - 1:3.000 depict geographic areas in different parts of the world, which are on the same lati­tude as the city of Edmonton in Canada. The corre­sponding longi­tu­dinal coor­di­nates are written on the sides of the lanterns. Stain­less-steel, each 7 x 7 m, Kath­leen-Andrews-Transit-Garage in Edmonton, Alberta. Comple­tion 2020.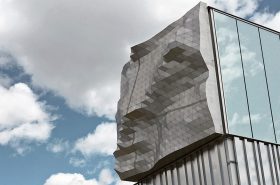 a bird's nest, cast of solid fine-gold twigs and a contrac­tual agree­ment that allows the school to destroy the nest after a minimum of 14 years serves as a concep­tual foun­da­tion for the new Fuchs­berg primary school in the district of Berlin Marzahn-Hellers­dorf and due to its economic value also as an invest­ment for future needs of the school. Completed October 2018.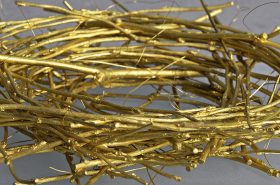 24 kt – inauguration
Presen­ta­tion and hand over of the golden nest "24 kt" – art on construc­tion for the new Fuchs­berg primary school – to the school and the students.
November 16, 1 pm at the Fuchs­berg primary school, Apfel­wick­ler­straße 4-6, 12683 Berlin Marzahn-Hellersdorf
ARTISTRY. Orońsko collection
Exhi­bi­tion 29 September 2018 – 6 January 2019
Museum of Contem­po­rary Sculp­ture Orońsko/PL
Curator Eulalia Domanowska, Coop. Henryk Gac,
with: Magdalena Abakanowicz, Paweł Althamer, Ewa Axelrad, Sylwester Ambroziak, Mirosław Bałka, Krzysztof M. Bednarski, Michalina Bigaj, Włodz­imierz Borowski, Tony Cragg, Tatiana Czekalska i Leszek Golec, Wojciech Fangor, Miłosz Flis, Władysław Hasior, Thorsten Gold­berg, Jacek Jagielski, Jerzy Jarnuszkiewicz, Marek Kijewski i Małgorzata Mali­nowska "Kocur", Jarosław Koza­kiewicz, Edward Krasiński, Piotr Kurka, Alicja Kwade, Natalia Lach-Lachowicz, Daria Malicka, Jarosław Perszko, Marta Pszonak, Maciej Szańkowski, Martyna Szwinta, Sofie Żezmer.
A large tambourine, 5 m diam­eter x 1,2 m, red-white coated aluminum construc­tion with seven bronze pigeons atop standing upright at the entrance to the sculp­ture park of the Center for Polish Sculp­ture, Oronsko/PL. Completed summer 2017.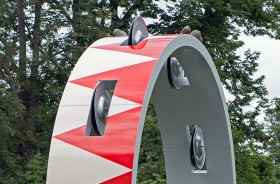 the artwork shall …
Lecture May 8. 2018, 7pm
at the Art Academy Mainz
Am Tauberts­berg 6, 55122 Mainz
Zi124/buy@Globus
Exhi­bi­tion Thorsten Gold­berg / Martin Kalt­wasser
29. August. - 1. November 2017
curated by: Uwe Jonas
Studio im Hochhaus, Berlin
Transactions – About the value of artistic labour
Exhi­bi­tion 1. June 2017 - 20. August 2017
curated by Marc Well­mann
Haus am Lützow­platz, Berlin